Lockdown, COVID-19 and snoring
What is the relation between them and how does it affect eachother? Lockdown rules across the UK are being made stricter.
England and Wales are subject to second national lockdowns. COVID-19 has spread all across the world, wreaking havoc on the most established healthcare systems and disrupting the lives of millions of people.
Many individuals were puzzled about the degree of damage caused by this virus –SARS-CoV-2– despite the medical and biotechnological advances we made. Researchers took a special interest in the effects of COVID-19 on different organ systems, including the lungs, brain, heart, and kidney. This was important to determine the risk factors for developing severe forms of COVID-19, as well as the potential complications caused by this infectious disease.
In this article, we will discuss the relationship between snoring and COVID-19, as well as how obstructive sleep apnea comes into play.
Are you looking for what causes snoring, what snoring causes to you and want to know the best 8 tips for anyone who suffers from a snoring partner?
Click the link below and download our £39.99 FREE guide:
'The Ultimate Guide to Overcoming The Dangers of Snoring'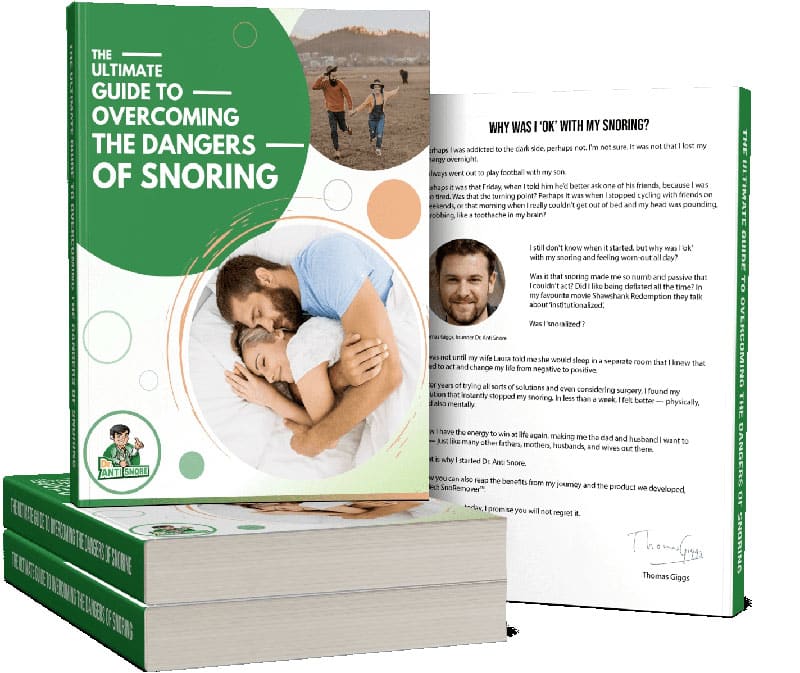 Signs and symptoms of COVID-19
Similar to other respiratory infections, SARS-CoV-2 causes several signs and symptoms that range in severity across individuals, depending on the age of the patient, the presence of other comorbidities, and the function of their immune systems.
According to the Centers for Disease Control and Prevention (CDC), COVID-19 presents with the following signs and symptoms after an incubation period of 2-14 days:
⦁ Fever
⦁ Chills
⦁ Lethargy
⦁ Arthralgia and myalgia
⦁ Persistent cough
⦁ Dyspnea
⦁ Headache
⦁ Sudden loss of taste and/or smell
⦁ Sore throat
⦁ Nasal congestion
⦁ Digestive symptoms (e.g., diarrhea, nausea, vomiting)
As you can see, these signs and symptoms are highly non-specfic, but doctors will test anyone who presents with a flu-like syndrome, especially in areas dealing with an active outbreak.
In severe cases, patients will need to get hospitalized, supplied with oxygen, and even put under mechanical ventilation. According to researchers, factors such as being a male, advanced age, smoking history, cardiovascular disease, diabetes, and chronic respiratory illnesses (e.g., chronic obstructive pulmonary disease, tuberculosis) can all increase the risk of developing respiratory failure from COVID-19.
How is snoring related to COVID-19?
Over the past few months, researchers identified numerous factors that increase the risk of dying from COVID-19. These factors could be diseases, unhealthy habits, or personal traits; regardless, they all augment the risk of dying from COVID-19.
𝙎𝙣𝙤𝙧𝙞𝙣𝙜 𝙞𝙨 𝙤𝙣𝙚 𝙛𝙖𝙘𝙩𝙤𝙧 𝙩𝙝𝙖𝙩 𝙬𝙖𝙨 𝙞𝙣𝙨𝙥𝙚𝙘𝙩𝙚𝙙 𝙩𝙤 𝙨𝙚𝙚 𝙬𝙝𝙚𝙩𝙝𝙚𝙧 𝙞𝙩 𝙖𝙛𝙛𝙚𝙘𝙩𝙨 𝙩𝙝𝙚 𝙢𝙤𝙧𝙩𝙖𝙡𝙞𝙩𝙮 𝙧𝙖𝙩𝙚𝙨 𝙤𝙛 𝘾𝙊𝙑𝙄𝘿-19.
In a recent study released in the journal Sleep Medicine Reviews, researchers at the University of Warwick reviewed 18 published studies and concluded that people who snore have a higher risk of dying from COVID-19 after hospital admission.
We should note that the study focused on deciphering the connection between obstructive sleep apnea (OSA) and COVID-19. However, and due to the high estimates of undiagnosed sleep apnea and the fact that snoring is the primary symptom of OSA, we can use this parameter to determine mortality risk.
For those of you who not familiar with OSA, here's a quick definition: 𝙊𝙗𝙨𝙩𝙧𝙪𝙘𝙩𝙞𝙫𝙚 𝙨𝙡𝙚𝙚𝙥 𝙖𝙥𝙣𝙚𝙖 𝙞𝙨 𝙖 𝙨𝙡𝙚𝙚𝙥 𝙙𝙞𝙨𝙤𝙧𝙙𝙚𝙧 characterized by abrupt pauses in breathing that occur periodically during sleep. This condition increases the risk of numerous ailments, including cardiovascular events, respiratory failure, and acid-based disturbances (especially in children). Risk factors of OSA include obesity, diabetes, chronic blood hypertension, and a sedentary lifestyle.
According to estimates, 1.5 million UK and 22 million U.S. citizens have OSA. Additionally, experts believe that the vast majority of OSA cases are undiagnosed, which leaves room for some mind-boggling numbers.
Learn more about OSA by clicking on this link (https://bit.ly/35ZD1Nq).
As you can see, OSA is associated with several conditions (e.g., obesity, diabetes, blood hypertension), which are also risk factors that increase the mortality rates of COVID-19.
Differently put, the same factors that make you develop OSA will also put you at a greater risk of developing severe forms of acute respiratory failure induced by COVID-19.
More about the study
The leader of the study, 𝘿𝙧. 𝙈𝙞𝙘𝙝𝙚𝙡𝙡𝙚 𝙈𝙞𝙡𝙡𝙚𝙧, a specialist in family medicine, stated that it wouldn't be surprising if patients with sleep apnea were to develop severe forms of COVID-19.
After all, both conditions ramp up oxidative stress and the concentration of proinflammatory cytokines in the body.
Here's what we know about oxidative stress: Oxidative stress is a general term that describes an imbalance between the number of free radicals (i.e., reactive oxygen species) and antioxidants. To protect us, the body utilizes a variety of free radicals that have one single goal: the destruction of foreign pathogens (e.g., bacteria, viruses, fungi). These free radicals, however, are not perfect. Since we have almost identical biological structures with microbes, our cells are also prone to the damage caused by free radicals.
Therefore, whenever this imbalance occurs, we become victims of our self-protective mechanisms. This is what we refer to as oxidative stress. Unfortunately, oxidative stress increases the risk of poor outcome and mortality in a myriad of medical conditions, including diabetes, cardiovascular disease, and respiratory pathologies.
𝘾𝙊𝙑𝙄𝘿-19 𝙞𝙨 𝙣𝙤 𝙚𝙭𝙘𝙚𝙥𝙩𝙞𝙤𝙣 𝙩𝙤 𝙩𝙝𝙞𝙨 𝙧𝙪𝙡𝙚.
For this reason, if you are a chronic snorer who suffers from undiagnosed OSA, your body is probably a hub for oxidative stress, which eventually puts you at risk of dying from COVID-19. Now let's get back to our review paper.
Out of the 18 studies examined by researchers, 10 were specific to obstructive sleep apnea while 8 focused on COVID-19 mortality. According to one of the studies, individuals with a medical history of diabetes and OSA were 2.8 times more likely to die from COVID-19 after 7 days of hospital admission.
The review paper also pointed out a crucial element that's often neglected: we still don't know the exact number of people with OSA. As a result, it is extremely challenging to determine exactly the number of people susceptible to severe forms of COVID-19.
With all of that in mind, researchers noted that these results are preliminary and further research is warranted.
Takeaway message
Preliminary research suggests that snoring is a major risk factor for severe forms of COVID-19. Hopefully, ongoing research will tell us more about the extent of this connection and whether there are any factors that we're missing.